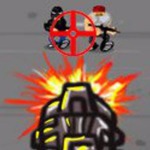 Gangster Buster
Take part in many fierce battles in Gangster Buster on Friv.land and prove that you are the elite mercenary who can complete every mission. Gangster Buster requires you different tasks to do. Do your best to be able to write your name on the Leaderboard in unblocked friv!

Game Des: Gangster Buster is one of the most played shooting games in the world. You are in the war against to the dark force. Are you strong enough to keep yourself alive after a number of hard missions.

The enemies are in front of you. They appear wave by wave constantly with the guns in their hands. They use these guns to shoot at you. Thus, act fast and try your best to defeat the opponents before they can aim and shoot at you in jogos friv unblocked.

There are many different levels equivalent to different tasks. For example, you have to kill 10 gangsters in level 1 and 12 thugs in level 2. However, from level 2, there are both gangsters and thugs. If the request is killing thugs, you will gain no point for killing gangsters. It means you have to pay high attention and determine the right target.

The number on the right corner shows the quantity of the rest of targets needing to be killed in frivc. You will get a dozen of bullets for each time loading automatically. Notice the health bar which tells you your status and don't let it decrease so much. Each time the enemies shoot you, it reduces a little. When this bar runs out of, you lose your life. Try to survive through the highest level at frive games!

If this shooting game impresses you, share it with your friends to play together. Please rate it highly and leave your feedback. Discover more interesting games such as Bottle Flip, Leader Strike at http://www.friv.land/

How to play:
Aim and shoot at the enemies by mouse,
use 1,2,3,4 to change weapon and press Spacebar to reload ammo.

www.friv.land
Rating:
2.5714285714286
out of
5
based on
14
user ratings