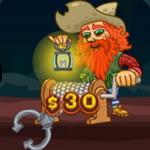 Gold Miner Jack
Do your best to win Gold Miner Jack of Friv.land. You work as a miner seeking valuable objects like gold, gemstones, and cash. You use your special tool to collect everything except for bombs and explosives. Earn scores to attain major goals. Players hang round Gold Miner Jack game to have gleeful moments in friv 4.
Gold Miner Jack free game is an engrossing game. You are a gold miner. The main job is to collect gold nuggets. You use a mining machine to grab nuggets. It has a clamp which can move from side to side. You collect precious stuff underground. There are gold nuggets, cash bags, pieces of the skeleton, diamonds, bombs, and stones. You wait for the right moment to launch the clamp at friv 4 games in such way that it takes priceless gems.
The game includes many levels. In order to complete levels, you must reach targets the game requests. In the level 1, you have to get a certain amount of money that is $850. You play in the limited time. If you achieve targets in a certain amount of time, you will win that stage on friv 4 online games. When you get enough points and money, the game notifies you and automatically moves to the next level. Each level has a separate target.
In the level 2, you must get $1440. You meet animals in the underworld. They go around the mining field. You can go to the shop and buy more things like strength, bombs, diamonds, bags of money, and stones. What you have bought will appear in the next stage. It means you create missions and challenges by yourself. If you cannot finish the missions at friv 4 player games, you lose the game. You have to start again from the level 1. Different objects bring you separate points. Diamonds, gold nuggets, and cash bags bring many points while you get fewer points if you collect stones and bones.
Comment, share and rate this game! Enjoy Gold Miner and DogeMiner at https://www.friv.land/.
Controls:
www.friv.land
Rating:
5
out of
5
based on
2
user ratings