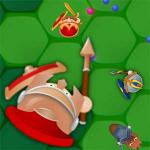 Gotia.io
Do you love IO game? Do you like multiplayer games? Let Friv IO games introduce you a new game which brings you the gaming experience that you expect. Gotia.io is a cool multiplayer fighting game that you have a chance to test your fighting skills when facing other players from all over the world. Put an awesome name, then customize your character and start fighting. You can play as Viking, Knight, Spartan, Dwarf, Ice King and more. Each character has their own weapon, armor and shield.
Once you have selected your favorite hero, you can enter the battle. Move your character around the map to collect colored gems to boost your power and level your character. Besides these gems, you also see some power-ups like health or shield. Let's collect them without any hesitation. On http://www.friv.land/, the game lets you ride a horse too. Sound awesome, doesn't it? Ride the horse to move faster. Wield your sword when any enemies appear. If you're strong enough and feel confidence with your fighting skills, you can search for and hunt other players.
As the game processes, your character becomes more powerful and you can attack with more damage. Avoid the attack from the enemies and use shield to reduce damage. Player has the most kills is the winner. Is it you or one of your opponents? Fight hard to become the battlefield and leaderboard master in this awesome game. You won't waste any moments here. Hond your skills in other excellence io games such as PirateBattle.io and Shotz.io.
Instructions: Use your mouse to move, left click or space bar to attack.
www.friv.land
Rating:
5
out of
5
based on
3
user ratings