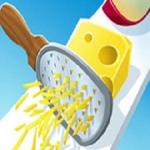 Grate It
A master chef in the town wants to find an assistant who can help him a lot of things in the kitchen like prepare cooking ingredients. Do you want this job? Let's apply and find how much fun this job is. Grate It is a fun arcade game challenges your hand speed. Here at friv games 2020, you just need to grate every ingredient that comes to you from the conveyor belt. Tap or click like never before to use your special tool to grate every single ingredient into small pieces.
Watermelons, pineapples, tomatoes, potatoes and more, you can grate all of them. Each mission is completed if your processing percentage is 100%. Then, you move the new stage and keep grating. However, the challenging level of the game increases as you level up. The speed of the conveyor belt increases significantly. And you have to boost your hand speed to catch up with this process.
On http://www.friv.land/, you have 2 modes to choose from including single-mode and 2 player mode. In single mode, you don't compete against anything from time or a certain goal. You just fight against yourself. Reach 100% and unlock the new stages. Your boss is watching you behind. So be hardworking and careful. In 2 player mode, you can play with another player or control both tools. It's hard at the beginning and it won't last too long.
You can get familiar with the gameplay of both hands soon. Besides this enjoyable game, you can find various options as great as this one on our site. If you don't know how to start, let's check out 2 following options first Line Color and Swarm Queen
Instructions: In a single-mode, you click to grate. In 2 player mode, you use q and p.
www.friv.land
Rating:
4.2727272727273
out of
5
based on
11
user ratings