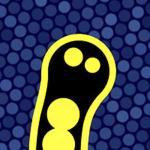 Gulper.io
What is your favorite IO game? Do you want to show to the world that you are the best player out there? Inspired by Slither.io - one of the most famous IO games at free game friv, Gulper.io will bring you the same fun but unique experience. In this awesome multiplayer online game, your mission is to become the biggest and strongest snake on the battlefield.
To fulfill your desire, you must collect as many glowing dots as you can to grow bigger and longer from a small size snake. They are scattered on the map. It's true. In the beginning, you are a small snake and you are vulnerable. At the time, you must focus on eating and avoiding the ones who are bigger than you. When you are longer and bigger enough, you can use your body to make other snakes crash into it to kill them and eat their remains. Their remains boost your size much faster than collecting food on the map. The larger you are, the easier you can trap your opponents. Just lock them in the trap made of your body to eliminate them.
On http://www.friv.land/, the competitiveness is really high. You must stay focused and be careful, otherwise, you can die after entering the battle for a few seconds. Try your best to slither right to the top of the leaderboard. Defend yourself and attack other players to conquer the battlefield. With the fancy graphics, awesome gameplay and fast-paced combat, you will have a great gaming experience here. Don't forget to check more IO games available on our site. There are new ones: Brutalmania.io and Warfronts.io.
Instructions: Use your mouse to move and left click to speed up.
www.friv.land
Rating:
4.0909090909091
out of
5
based on
22
user ratings