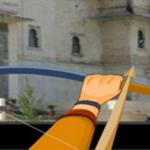 Hidden Soldiers 2
As you take the role of a professional archer, you will have to use your skills and great observation techniques to find the way into the castle. However, first, the most important mission is to shoot down all the soldiers in the front line. They are scattered around the towers. Since you are standing far away, you need to observe carefully, choose the perfect spot that the enemies stand. Then take a shot! Your weapon is the trusty pair of bows and arrows.
In this Friv game, it's all about perfect precision. Don't click on any random place because if you do, your time will get reduced for any mistake you make. A tip for the new players is that the soldiers will wear the blue uniforms which stand out among the yellow theme of the tower. This tip should help you find them easier and have more fun with the game at http://www.friv.land/. The last three soldiers will be the real challenges. If you fail to spot them anywhere, don't hesitate to use the hints and pay attention to the arrows to find them.
However, for each time using hints, it will take you 100 points. It's up to you to choose the most suitable choice. Keep in mind that you don't have a lot of time, so move quickly and get into the tasks! Various adventures and cool castles are the main features which make these game like Extreme Pixel Gun Apocalypse 3 and Archery Trainin interesting.
How to play: choose the spot and shoot with the left mouse.
www.friv.land
Rating:
3
out of
5
based on
2
user ratings