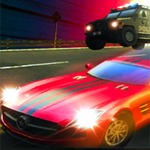 Highway Squad
You are tempted by Highway Squad of Friv.land. You are going to drive your vehicle to do missions. You are accountable for catching criminals, destroying enemies in the limited time and ranking up in efriv. Highway Squad game buoys up players. You gain the maximum speed to eliminate opponents. So much fun!
Highway Squad free game leads you to wonderful races. You own a sports car to attend races. You can upgrade your car or buy weapons. You upgrade engine or armor. You must use credit to upgrade and purchase weapons. There are many kinds of the gun like the revolver, AK assault rifle, minute-gun, single-loader, and sniper rifle. You must complete missions at efriv game. You will have to stop an enemy Sedan before he escapes. You chase after him and shoot his car. You also can bump into him to stop him. Do anything to complete the mission. You are given a certain number of bullets. Don't waste them!
You continue to drive to make missions done. You will gain achievements after finishing challenges. You are a corporal after reaching the rank of corporal in the medium mode. You become a sergeant after getting the rank of sergeant in the medium mode. You are a lieutenant when you rank up to lieutenant in the medium mode. You become a captain on efriv online game if you rank up to captain in the medium mode. You gain golden scorpion after you upgrade scorpion in the easy mode.
You play as a golden interceptor when upgrading interceptor in the easy mode. Moreover, you are able to become the golden predator, golden beast or dreadnought. If you purchase all weapons, the game is fully loaded. When you win all missions, the game is completed.
We are honored to receive reviews and feedback. Assess the game and talk about this to playmates. Enjoy Mall Dash, Road Of Fury 3, and Crazy Stunt Cars on http://www.friv.land/.
Instructions:
Use arrows or W A S D to drive.
Use Space to shoot and M to mute.
www.friv.land
Rating:
3.4
out of
5
based on
5
user ratings