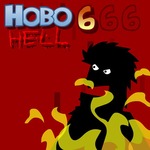 Hobo 6
Hell game on Frivland! Hobo has died and guess what? He's in hell! His mission now is killing some demons and their master Satan Can't die so meaninglessly.
Hobo made a decision to return to the earth, as soon as he defeats all the demons. Let's help him in Hobo 6 at Friv4 scool! Simple graphics but attractive content, Hobo 6 is an insanely fun and addictive game that you can play at the friv game. You can not believe what happened to Hobo. A few days ago, Hobo fell asleep on a UFO. Unfortunately, the oxygen on that UFO ran out and Hobo died. Such a bad luck! However, he woke up at hell and he decided to defeat Satan to return to the earth. Your mission is to help him escape from hell successfully. Of course, the dead can not return to earth. Therefore, the lord of hell will find ways to stop Hobo at all costs. Hobo must wipe out all masses of demons, then kill Satan and come back home. You can find many interesting games at friv 4 scool Games such as Mutilate a Doll 2. Do not miss them out!
How to play:
Use arrow keys to move,
A to punch and pick up objects,
S for the kick.
www.friv.land
Rating:
1.5
out of
5
based on
2
user ratings