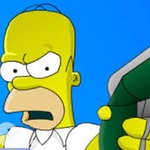 Homer The Flanders Killer 5
Homer The Flanders Killer 5 is a superb shooting game at Friv.land. Do you know Homer character in The Simsons animated movie? You are Homer now. Move the weapon rapidly. Shoot bullets in a blink of an eye and win stages. Homer The Flanders Killer 5 game is just a way to kick back on fvriv. Give yourself pleasure!
Homer The Flanders Killer 5 free game. You hold a gun and use it to pass levels. There are 15 levels. Each level requires one mission which you have to finish to unlock the following stage. Aim straight at the targets and shoot exactly. Targets move quite fast in fvriv games, so you must shoot quickly. Difficulties are diversified; therefore you deal with new challenges continuously. The game always gives players guides at all levels.
In the level 1, you must shoot the whole of Ned family to open the next level. If you create a headshot, you have 5 points. One shot in the body brings 3 points at fvriv player games. You may get unlimited combo when you keep shooting their bodies. Four members will move and you shoot them down. In the second level, the mayor takes a walk. Don't shoot him because you will lose points. Just shoot Ned family.
In the next levels, the setting changes and you go to places in the city. Targets hide and move. Act fast! If you shoot Mr. Burns in fvriv online games, you will lose some points. Next, avoid killing the old man and yes man. Targets move faster and faster. The game becomes harder. You are given a bonus level to get more scores. Take the chance!
Which level are you in? Talk to your friends about this game. Give it 5 stars if you like it. Make remarks on it. Try shooting games such as Bottle Shoot, Sniper Team 2, and Alien Shoot Zombie at http://www.friv.land/.
Instructions:
www.friv.land
Rating:
5
out of
5
based on
2
user ratings