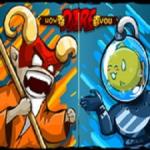 How Dare You
How Dare You is an interesting and challenging action game in which you don't know whether you can meet the final boss or not because it depends on upgrades. In a beautiful day, you are goat master of a dojo. You are meditating but the evil goldfish suddenly appears and spit out your beard. How did he break in your dojo and how dare him to touch to your precious beard?
You can leave him to escape easily. Let's chase him and give him a lesson. It's time to revenge. Here at friv play Games, the rule is simple, you choose the right time to launch the goat master to chase and take out the evil goldfish and his army. Your objective is to launch him as far as possible to collect as many coins and crush as many enemies as you can. however, to travel the farthest distance, you must focus on upgrading to enhance the performance.
For example, you must upgrade launch stat to increase launch duration and speed, increase movement speed, increase stamina to run farther, increase rush ride duration and other stats. On http://www.friv.land/, the game also offers endless mode and 36 achievements. Complete all achievements to earn extra rewards.
In the chasing journey, you also collect some powerups. Make use of them to go further and collect more coins. After a few seconds, they will disappear. This game is really fun to play and you will love it for sure. Don't forget to check out other games with different gameplay such as Red Ball 2 and My Country Life.
How to play: Click or use space to launch, jump, run and fly.
www.friv.land
Rating:
4.5
out of
5
based on
2
user ratings