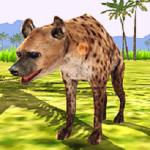 Hyena Simulator 3D
Hyena is one of the most dangerous predators in the wild habitat. Are you curious about the life of this animal?. Hyenas live in groups. They are incredibly social and smart. They are not only successful scavengers but also hunters. With strong jaws, they can defeat the strongest animals, even a tiger. In Hyena Simulator 3D at friv for kids Games, you will have a chance to experience the hyena's life in a unique way.
Yes, you play as one of the most powerful and fiercest animals in the world. You have to do different missions in the game. You walk slowly or run at the high speed through the wide forest and complete many kinds of missions such as attacking a tiger, stopping humans from destroying the forest and more. These missions are really challenging. Even as a wonderful and powerful creature in the wild habitat, you may fail as well.
Try to attack at the right time to defeat your enemies, figure out the plan of human to stop them by destroying their vehicles, find the ball. On http://www.friv.land/, you follow the red arrow to know exactly where to go and look at the mini-map to come to the required destination to take missions and finish them.
Live a day as a fierce hyena and enjoy the journey in the forest. You may never have this kind of experience in real life. With stunning graphics, unique gameplay and realistic simulation, you will have a great time here. If you like simulator games like this one, you can find tons of them on our site. Some awesome choices for you are Island Survival Simulator and Rogue Soul 2.
Controls: Arrow keys/WASD to move, mouse to view and attack, shift to run, 1/2/3 to speed up.
www.friv.land
Rating:
5
out of
5
based on
1
user ratings