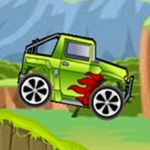 Jeep Ride
Jeep Ride is more of a driving game in Friv.land. It is a great way to wipe off depression. Have fun with fabulous rides on perilous tracks. The adventure has begun already. Hold the steering wheel and step on the brake. Don't give up on Jeep Ride game of www.friv. The race is hard to win, but you can do it. Come on!
Jeep Ride free game is a driving game. You don't race any opponents. You are the only one driver trying to conquer all tracks. You can go straight, speed up, hold on and keep balance. Control the car carefully and react quickly. If you cannot keep balance, you will make an accident and the car will blow up. You lose the game. Click Replay button to retry that level. The game is divided into so many levels. You drive your car crossing the finish line to win levels. Complete stages one by one on www.friv.com.
The terrain of the game is very challenging. You drive on mountainous roads. They are dangerous, rough, and bumpy. You must go up and down continually. You meet slopes and huge water puddles. Keep balance while climbing up descents and sliding down. Remember to collect coins on the way. Each level has separate obstacles and difficulties at www.friv games.
Try to get out of troubles. You go through uneven bridges. Destroy piles of steel bars, wooden barrels or go around in a big circle. You can be given some stars if you play well and win a level. You aren't suffered time pressure. Drive carefully. Don't rush! Control the speed and balance. New obstructions are awesome.
Discover next levels on https://www.friv.land/. Give the game 5 stars and recommend it to buddies. We are pleased to see your reviews. Other driving games are Death Chase, Cars Eat Cars 6, and Monster Truck Adventure.
How to play:
Use right/left arrow to keep right/left balance.
Use up arrow to speed up.
Use down arrow to reverse.
www.friv.land
Rating:
4
out of
5
based on
5
user ratings