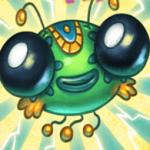 Just Feed Me Bloomy
In the garden of online Friv land, there are many trees with the special fruits. The animals usually wait underneath those trees to eat the fruit. But they are too hungry now. It's your task to catch the fruits before they hit the ground. Then feed the little animal with the fruits. When you feed it with enough fruits, it can get bigger. However, not only the fruits but the bombs will fall from the sky.
Therefore, it's crucial that you pay attention and avoid catching a bomb which can do harm to animals. On the first few levels, the fruits will fall slowly so that you can get used to the mechanism and the gameplay. But as you progress further, the speed will increase significantly, therefore, it will not be as easy as the first few levels. This friv play game requires the players to act fast and to show quick reflexes in order to catch the fruits while they are still floating in the air.
Don't forget to clear all the bombs. If your animal is destroyed by a bomb, the game is over. The game has the bright graphics, many cute characters for you to play with and a detailed tutorial for the new players. It's the best game for kids to enjoy during their free time. Catch as many fruits as possible at http://www.friv.land/ and don't forget to play some other games like Coloring Game for Kids and Circle Ping Pong!
Instructions:

Drag the mouse to feed the animal.
www.friv.land
Rating:
4
out of
5
based on
1
user ratings