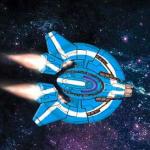 Kazap .io
Kazap .io is an addictive online IO game set up in the galaxy in which you are an awesome pilot and enter the battle of powerful spaceships to dominate the galaxy. How can you win and how long can you survive in this thrilling combat. Whether you win or lose not only depends on your luck but mostly on your skills. Let's test your survival and shooting skills in this game and see if you are a legendary pilot or not. Like other IO games at Friv IO games, your ultimate goal is to conquer the first place of the leaderboard.
This battle is high competitiveness because other players also set that goal, but only one king in a kingdom, so you have to play hard and deploy wisely strategy. On http://www.friv.land/, when you are a small and valuable spaceship, you should try hard to collect as many orbs like shining stars as possible to grow bigger and become stronger and avoid those who are bigger than you to keep your life safe first. When you are strong enough, you can start fighting for the king position. Kill all enemies in front of you and avoid attacking from them.
Fly your battleship around the beautiful out space and absorb lots of orbs. It is the key to win besides having a good shooting skill. Can you put your name to the top of the leaderboard? Good luck and have a great gaming experience. Horn your skill and have fun with other io games such as Crazynite.io and Warfronts.io.
Instructions: Arrow keys/WASD to move, Shift/Space bar to use turbo, Z/L to stop.
www.friv.land
Rating:
4
out of
5
based on
2
user ratings