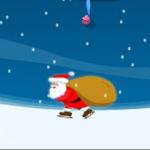 Kid Vs Santa
What will Santa do to save the kids on Kid Vs Santa's game at https://www.friv.land/? Certainly, he would have to move most flexible to help the children land safely in this game. Christmas is one of the best holidays for kids with special gifts. Santa Claus in this game will not go out to give presents normally.
He needs to complete another special task that is to save the children when they encounter difficulties in the game. Certainly, the kids will need Santa's help so they can be safe. Christmas becomes more special when you complete your task and save so many children. It's great to help children land safely. Friv online update this game and help players complete the tasks in the fastest way. The kids will be safe and have a meaningful Christmas Eve with your great help. The good Santa is the legendary character who rides the reindeer and delivers gifts to the children. They will love your special gifts and thank the Santa.
You can save this game and join it when you have free time to relax after every hour of study or stressful work. Players will surely be attracted to the content of the game. Levels will bring you different challenges. Each game that is similar to this game can be easily explored in free time like Merge Plane and Super Kid Adventure. The worlds are constantly open in front of the players. You can complete your task and share this game with your friends.
How to play: Use left and right arrow keys to move Santa to the place helping the kids in this game.
www.friv.land
Rating:
5
out of
5
based on
1
user ratings