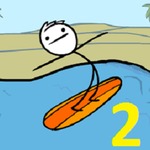 Kill Da Guy 2
Kill Da Guy 2 is ready to play at Friv.land. This's a cute point and puzzle game. Your duty is to take a stickman's life away. Huge challenges and wonderful adventures make you so thrilled. You visit a lot of places in the world to murder the man. It is sure that Kill Da Guy 2 free game of frivgames appeals you.

Kill Da Guy 2 online is a one-player puzzle game in which you have to destroy a man who finds himself in the various situations. His life is in your hand. He isn't in trouble until you find out the way to eliminate him. Challenges are diversified, so they will rack your brain on frivgames player.

Your task in this game is to terminate the stickman. Interact with objects, people and animals to cause his death. To succeed the game, you have to pass through different levels. All levels seem marvelous and entertaining. You make use of your problem-solving skill and intelligence to end the life of the guy. Good luck and have fun with frivgames for school.

The special thing in the game is that the guy turns up everywhere and situations are countless. At first, you see him surfing in the sea. You need to touch him to make him fall down into the water and die of drowning. Next, he is sunbathing on the beach. You cut down his umbrella so that the sun burns him to death in frivgames online. He appears in a graveyard. You use a sandwich to cheat him and let him fall into the tomb. Let him ski in the mountainous area. He can't control his speed and dies of falling down cold snow. Change his order so that the waiter punches him. Make the moon fall down on him.

Your reviews are all welcomed. They can help us to enhance the game's quality. You may find more similar games such as Trollface Quest 3 and Trollface Quest TV Shows on the site http://www.friv.land then enjoy! Please share and rate them if you have a liking for them.

Instructions: Click the mouse to play.
www.friv.land
Rating:
4.0666666666667
out of
5
based on
15
user ratings