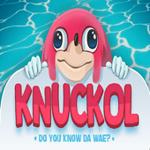 Knuckol .io
Introducing you one of the most fun-addicting multiplayer online IO game that will have you an amazing experience like never before called Knuckol .io online. If you wonder how to play it, then you will find out now. Like other IO games at friv free Games, you will jump into a multiplayer battle where you have to take on all enemies to survive and to win.
The battlefield of the game takes place on a beautiful beach. Don't let its beauty distract you because you have to focus on other things. The first thing you should do when entering the game is to move around and collect as many colorful dots as possible to level up while staying away from other players. This game tests your agility and skills. To dominate the leaderboard, you have to apply a wisely strategy. If you just focus on eating, you will die soon and if you just focus on defeating your enemies, you also die soon. You must combine both of them. Collecting while killing. If you attack face-to-face, you only have a 50 percent chance of success. You should attack other players from their back using your spear.
Give them a little touch with the tip of your spear and every single enemy will be eliminated. Move slowly, get close enough and speed up to trick them. Watch out every direction because other players also want to send you to the hell. Kill as many enemies as you can to earn the highest score and wear the crown as the king and the queen of the battlefield. Good luck! More interesting IO games are waiting for you at http://www.friv.land/. Try these following options and you will not regret: Devast .io and Tornado .io. Have fun!
How to play: Use the cursor to move around, left mouse button to attack and right mouse button to dash.

www.friv.land
Rating:
3.4285714285714
out of
5
based on
7
user ratings