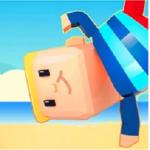 Kogama: Festival Park
Let's experience and discover more great things in an extremely new and fun adventure game that is Kogama Festival Park at play friv 4. You can completely explore this free online game that shows your computer and mobile browser. Are you ready to take on the challenge of the game? More fun! In this game you will appear in a festive park then you will have a lot of different missions. You will have to control cute characters in a field full of other players and interact in different ways.
You can compete with them to reach the flag or explore the map looking for interesting places. Collect lots of coins and you can shoot others. A lot of interesting stuff, right? But ahead of you is a multitude of challenging challenges. Your players always appear around and hinder you. So you move a lot that is observing and careful in your every step to collect as many coins as possible.
There are many deadly pitfalls along with obstacles to dodge them and bring yourself luck. Even more fun along with challenge game Kogama Festival Park at http://www.friv.land/. Run fast to be able to complete the task and the game offers. Why you would not recommend this game to your friends and invite your friends to join the fast game today to let have the opportunity to adventure together Experience and fun moments. If you are interested in this game genre, you absolutely can explore some other interesting similar genres such a Kill time in the office and Popcorn Burst 3D
Control: use the arrow keys, WASD keys to move, mouse to aim, Space= jump.
www.friv.land
Rating:
4
out of
5
based on
9
user ratings