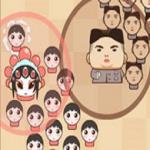 Leader War
The number is all in this fight. Leader War is a cool and fun game in which the number is the key factor to win. You and your opponent compete against each other to find out who is the better leader. Be beat your opponent at friv Games online, you must move around and recruit new members to build a crowded team. The number of member in your team must be higher than your opponent's team to become the winner.
There is no gun or armor, sword or shield, but the battle is highly competitive. Each battle lasts 2 minutes. Within 2 minutes, you have to move quickly to find new members. Each player has a circle around them. New members are the while ones stand still on the map. You just need to let your circle touch them to turn them into your member.
The bigger the number of members, the slower your team moves. In some other games have the similar gameplay, you can steal the member of your opponent's team even when you have fewer members but on http://www.friv.land, you have to have more members in your team to acquire another team.
If you are weaker and you face to face your opponent who has more members than yours, you lose. So stay away from them and try to team up with new members to become a great team to win to match. The rule is simple, isn't it? Let's start the match. Challenge other players around the world with Hoop Smash and Surgical Strike.
Instructions: Use your mouse to move.
www.friv.land
Rating:
5
out of
5
based on
1
user ratings