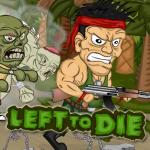 Left To Die
Rambo is in the most critical situation as he is left behind in the zombie-infested jungle. The rest of his team made it to the rescue helicopter a few hours ago. However, Rambo failed to reach the location of the helicopter so he is now left to die in the scary jungle all by himself. There is a slim chance of surviving this Friv game and escape the hordes of bloodthirsty zombies.
Will you help him to get out? Since this is a fighting game at friv land, the only to stop the zombies is to use a variety of weapons and shoot them down.
You need to headshot them before any of the zombies manages to reach the barrier. They will try to get into your base to eat you, therefore, protect Rambo's base at all cost! Some guns can only shoot within a small range, so use the money to purchase tons of upgrades between the attacks. Better guns and weapons will allow Rambo to shoot the zombies from a distance and keep the coast clear. The players will have to keep calm even in the most distressed situation in order to play the game efficiently.
Moreover, the last player standing is the one who can aim precisely and knock down the zombies quickly. Don't be afraid when they approach you and enjoy the fun gameplay for the best playtime ever! The huge collection with many cool games such as Furry Fighter & Fnaf Afton's Nightmare.at http://www.friv.land/ is available for you for free!
Controls: Aim and shoot using the left mouse.
www.friv.land
Rating:
3.75
out of
5
based on
4
user ratings