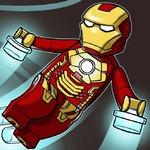 LEGO Avengers Iron Man
Lego Avengers Iron Man is an action captivating game at Friv.land. Are you into Marvel comics? If you have a taste for superhero movies, this game gladdens you for sure. Lego Avengers Iron Man game is the story of a superhero named Iron Man. He engages in conflict against a villain and his minions in friv unblocked.

The Lego Avengers Iron Man is a great chance to take a role of Iron Man. He is a cyborg, a millionaire, a businessman, and a hero. He is a key member of Avengers team. Iron Man is very strong and owns many enormous powers. You can't imagine what he can do with his strength. This hero possesses an ultimate special amour which brings him power. He may shoot laser ray from his palms and chest on in friv unblocked games. Let's visit the Lego Marvel world and take on the part of one of Marvel's most prominent heroes.

You shall fly in the air and fight against enemies. Many obstacles such as fireballs and toxic clouds prevent you from going ahead. Try hard to dodge them because they can reduce your health. Rivals are going to appear soon. They drive flying machines and shoot you. You must avoid their attack waves and shoot to murder them. Move quickly and cleverly to fight against opponents. A lot of enemies come on the way at friv unblocked online games.

Loki evil-doer will turn up to destroy you. As soon as he appears, a health bar will show his lives. When the bar disappears, Loki will be killed. You shoot him until he dies. You both eliminate the bad guy and dodge Loki's dangerous laser ray from his scepter. You can take his life by launch deadly rays at him many times in friv unblocked free games. Try hard to win that supervillain. You will have an infinity stone after you terminate Loki. Kill minions and Loki to get scores. After the game ends, you are going to know your scores.

We heartily welcome all your reviews and rating. Please introduce the game to your companions if you love it. Play more our great games such as Lego Super Heroes and Lego Avengers Hulk on http://www.friv.land/.

Instructions:
Use the arrows to fly and move.
Use the Space to shoot.
www.friv.land
Rating:
4.3571428571429
out of
5
based on
28
user ratings