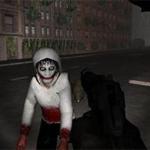 Let's Kill Jeff The Killer
Games with horror theme are the latest trend in Friv play 2018 thanks to its intense gameplay and the cool experience in many dark locations. Let's Kill Jeff The Killer free game is the latest choice for you! The best part of enjoying a horror game like this is that the players have the chance to experience the realistic sets in a high-quality 3D environment.
You and your team are sent to investigate an abandoned town. There are rumors that the famous Jeff The Killer is living there. In order to win the friv com game, you need to search the area thoroughly and complete the task. Your goal in this cool horror shooting game is to find all 8 of his knives and kill him. Search all over the abandoned town and watch out for the horrible mess this scary assassin has left behind. Do you know that you can play the role of Jeff as well? If you are not afraid of killing all the soldiers with your knife, taking the role of Jeff himself is a good choice. As Jeff, players need to find 8 hearts which are scattered around the town, then, open a gate to the Mystic dimension and escape!
Turning off the lights and keeping a high volume during the night is the best way to enjoy the 3D realistic graphics and scary settings. There are some other interesting games such as Slenderman Vs Freddy The Fazbear and Fruit Shoot Boom at http://www.friv.land
Controls:

Use W, A, S, D to move, the left mouse to aim and attack, Shift to run, Space to jump, F to collect items, E to prone and Ctrl to crouch.
www.friv.land
Rating:
3.8181818181818
out of
5
based on
11
user ratings