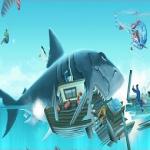 Megalodon
Sharks will find a way to survive in the Megalodon game at http://www.friv.land/. Your mission becomes extremely important in this new game. Any player wants to overcome all the challenges and victories. You can eat other creatures in the game and get the highest score. Attack any life in the deepest part of the ocean. Stay away from things that can attack you at any time.
Recharge and continue your adventure without being bothered by any factors during the game on our website. The best players who consistently top the weekly rankings also love and want to discover this game that is addictive for players who love the blue sea god. The new friv adventure games gives players a list of updated games and helps you relax after hours of work or study stress.
Surely you are familiar with this character in famous movies and want to experience a new feeling. We always help players find games of different themes and are for all ages. You will love this new game and want to share with your friends about gaming tips and how to overcome them. Different plays will have different results with which you can draw the most unexpected lessons. The list of the latest games is constantly updated daily. Move and speed up to eat your food or avoid human attacks. Update your favorite game list with similar games such as Backflip Maniac and Sally BBQ Joint today. We will help you overcome it all and win.
How to play: WASD or arrows key to move, Space to attack and Shift to increase speed
www.friv.land
Rating:
3.8571428571429
out of
5
based on
7
user ratings