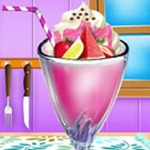 Milkshake Cooking And Decoration
Milkshake Cooking And Decoration is a fabulous game for girls at Friv.land. You work as a bartender making a glass of milkshake which is a popular drink. You also decorate the milkshake. Milkshake Cooking And Decoration game has a kitchen in jeux friv where players can try out new recipes and become a master chef.
Milkshake Cooking And Decoration online game is played for free. There is a teenager needing your support. She desires to make a tasty milkshake that is her favorite beverage. She also wants it to look eye-catching. Are you willing to assist her on jeux friv games? You have 2 essential things to do: Cooking and Decoration. Let's get started right now!
Enter a kitchen and prepare to make the milkshake. That is a modern and lovely kitchen. We provide you with enough cooking utensils. You use a knife to open a pack of flour. Pour flour into a big bowl. Open a milk bottle with the knife and pour milk into the bowl. Cut the sugar pack and add sugar to that bowl. Drop some blueberry syrup in the bowl at jeux friv player games. Use a whisk to stir the ingredients. Now we have the yummy cream.
There are 5 fresh and sweet strawberries. Cut strawberries into 2 segments. Put them in a bowl. Prepare a blender. Open a sugar pack and a packet of cacao nuts with the knife. Add strawberries, sugar, cacao nuts, milk, and syrup to the blender. Turn on the grinder. Grind all ingredients in jeux friv for free. Then pour the mixture into a crystal glass. Use an ice cream scoop to put cream into a pastry bag. Put cream on the mixture. Your milkshake looks great. Let's decorate it.
You may change the color of cream or mixture. There are colors such as brown, red, pink, and white. Change the shape and pattern of cream. Choose a kind of syrup to put on the cream. Decorate milkshake with fruits on jeux friv online games. You pick among watermelon, strawberry, lemon, blackberry, cherry, and raspberry. Put toppings including chocolate pieces and candy beans on the cream. Choose a nice straw to finish the mission.
We appreciate your comments and rating. Share this game with your friends and play similar games such as Burger Now, Donuts Bakery, and Princesses Cooking Competition at http://www.friv.land/.

Instructions:
www.friv.land
Rating:
4.75
out of
5
based on
8
user ratings