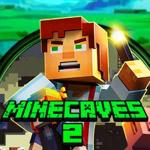 Minecaves 2
Minecaves 2 is a fun Minecraft-style game in which you help Steve - our lovely blocky character explore deep dungeons and collect as many gems as possible. Of course, it isn't easy because dungeons are full of dangers. There are several traps and monsters set in the dungeon and you must avoid them to make sure you go as far as you can in your interesting journey at the free new friv game.
However, you can only move in a linear direction. It means the game just allows you to move from one surface to its opposite. You can turn left or right in the middle of a path, so let's plan your route carefully to both save your life from dangers and get gems. This kind of control sounds simple but it's really challenging that you will realize soon when playing. The game offers 25 challenging levels waiting for you to discover. Each level brings you to a unique dungeon with different obstacles. Try to complete all fun-filled levels with 3 stars. These stars are used to unlock the next set of levels.
On http://www.friv.land/, you must complete the current level to move to the next one. Your goal is to collect all gems scattered in the dungeon and reach the exit safely. Remember that each level is unique. There are not 2 levels look alike. This brings a new experience each time you play. Conquer all 25 levels on the shortest time to show off your awesome gaming skill. Can you complete all levels with 3 stars? Hope you have fun here. More games are available on our sites. Check out Super World Adventure and World Craft.
How to play: Control your character by using arrow keys or mouse.
www.friv.land
Rating:
3.7692307692308
out of
5
based on
13
user ratings