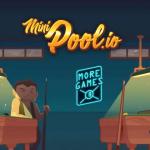 Minipool.io
Welcome to Minipool.io - the world of colored balls. Are you good at playing billiard? Let's have a small test in this game. The game offers 2 game modes for you to try including solo and 2 players. You can hone your skills or play billiard at your pace in the solo mode, then when you're confident enough, you can play against a random player in 2 players mode. Each mode sets a specific goal that you have to conquer.
In solo mode at friv new games, your mission is to pocket all colored balls before the time runs out. Colored balls add 50 points and 10 seconds. The cue ball deducts 20 points. You have to score at least 2500 points to unlock new cues and tables. In 2 players mode, you have to pocket your balls before your opponent to win. If you pocket your opponent's ball or cue ball, you will lose turns. If you successfully pocket a ball, you will get the next turn. Remember to pocket your own balls not your opponent's balls.
On http://www.friv.land/, to help you easily play, the game offers a guide feature. You can take advantage of the direction of the cue to adjust the angle and power to pocket the ball. You may not find the feeling at the first time, but after several playing times, you will gradually get familiar and play as a pro. Go for solo or opt for 2 players and win over the game. If you want to play billiard in different styles, you can play Pool 8 Ball and 8 Ball Pool Billiards.
How to play: Play billiard by using your left mouse button.
www.friv.land
Rating:
3.5
out of
5
based on
2
user ratings