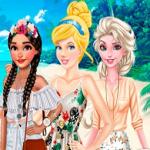 Moana Ruffles Ftw
Moana goes to a new school and here, she meets 4 lovely girls and quickly makes friend. To welcome her, Jasmine, Elsa, Belle, Cinderella decided to throw a party at the beach and they want to become more close with Moana. You know that you can wear a school uniform to join a party, right? So, Moana needs to change her clothes. All the girls have already changed their outfit and they are waiting for Moana at the party.
You must help Moana so she can go to the party on time. She doesn't want to be late. In Moana Ruffles Ftw at friv free Games, you play through 2 modes including dress up and makeup. You play dress up part first to unlock the make up the stage. Like you play other dress up games, you mix and match all fashion pieces to create a great combination for Moanna. There are various choices that you can let Moanna try on, then make the final decision.
Moanna has curly long black hair but this style doesn't suit to go to the party. Let's change her hairstyle with many options on http://www.friv.land. After dress up is done, let's think about a perfect makeup look. Which make up styles suit Moanna the best? You can experience all styles and apply the best one for her. This game is similar to other dress up games on our site such as Princesses Winter Refreshment and Cure Beauty Fashion Style, so that you can easily pick up and join other parties with Disney princesses in those games.
Instructions: Use your left click to play this game.
www.friv.land
Rating:
4.8333333333333
out of
5
based on
6
user ratings