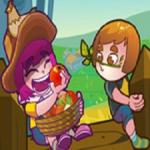 My Country Life
Experience a farm simulator game like no other out there. Do you favor planning plants and vegetables? Let's start building your own farm in My Country Life at friv kids. This game tests your management skills and your hand's speed. A feature makes this game apart from other choices is that it's divided into several levels. Each level requires you to complete a certain mission.
You have to prove your management skills at http://www.friv.land. For example, in level 1, you start your farm with 3 slots and you have to collect a certain amount of tomatoes. As you level up, you will deal with more challenges. You have to go to the store to buy the right seeds, plant the seeds, water them, wait until the harvest time comes, get a bag and harvest, then store your crops in the barn.
This process repeats several times until the time ends. Yes, you just have limited time to finish your mission in each level. If the time runs out but you haven't met the requirement on the number of crops, you have to start that level from the beginning. Harvest to earn coins. Then, you use coins to buy new kinds of seed and expand your farm. There are so many interesting things waiting for you to discover on
While experiencing, you will find that this game is different from other games of the same genre. It's still fun and enjoyable but challenging as you have to make use of the time and your management skills. Have a great farming day and enjoy other games such as Adam and Eve: Cut the Ropes and Angry Shark Online.
How to play: Use your left click to farming.
www.friv.land
Rating:
5
out of
5
based on
1
user ratings