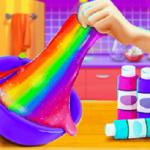 My Slime Mixer
The collection of girls games at friv game 2019 is always added new games all the time and you are easy to find your great choices that suit your taste and you can always get what you are looking for on our site. My Slime Mixer is a cool and super fun slime making simulator in which you will be lead through all steps. It shows you how to make DIY slime at home with easy instructions and visual images.
First, you prepare a big bowl. Add 1 cup of washable PVA, 1 cup of water, and 1.5 cups of starch liquid, then use a spoon to mix this mixture up. You can choose from many colors at your choice to change your slime color. Add glitter of your choice. There are many options for you to create your own style of slime. On http://www.friv.land/, you can play many times to create a different kind of slimes, each kind each time.
Add color, glitter, and more decorating items t make it look fancy and unique as you like. Now, when it's ready, you can play with it by using many tools. Use your hand to punch, stretch it. Use a masher or a shoe. Play with it as the way you like. Besides, you can take an impressive picture and share it in the social network with your friends and invite them to play with you. Without causing your hands dirty, with easy to find ingredients and simple instructions, you can have fun with your own DIY slime. Good luck! Have a great moment here. Enjoy other games with other choices of games such as Blocky Farm and Moana Cute Zoo.
Controls: Use your mouse to make DIY slime.
www.friv.land
Rating:
4.25
out of
5
based on
12
user ratings