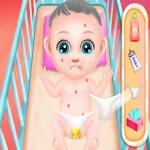 Newborn Baby Care
Newborn Baby Care is a fun newborn babies nursing game in which you work as a babysitter in the nursery and your job is to take care of many babies and make sure they are happy, healthy and clean all day. You need to feed and play with them. Besides, you also need to change their diapers, decorate the room and take them to the bed and so on.
At friv kids Games, you can enjoy the game with 2 modes including Time mode in which you race against the clock to care for as many cute babies as possible within 5 minutes and Free mode which contains 6 steps: washing, changing diapers for babies, feeding, playing, decorating and dressing up for them as well. You will care for 4 different babies.
Play both modes to enjoy different experiences and have fun with our cute babies. In 5 minutes, how many babies you can take care of them from head to toe? On http://www.friv.land, you can learn and play at the same time. You will know the whole process of newborn babies nursing that you may haven't had any changes to try in real life.
Of course, it is much easier than babysitting in real life. With beautiful graphics, easy gameplay, this game is simple enough for small kids to play and attractive enough for adults to enjoy. If you like this genre, you can find several choices similar to this one on our site. Some of them are Chloe Bourgeois Dress Up and Princess Vlog Modern Fashion Party.
Instructions: Use your mouse to babysit.
www.friv.land
Rating:
3.75
out of
5
based on
4
user ratings