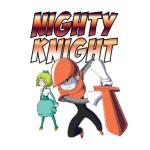 Nighty Knight
Play as Pew Pew princess or nighty knight and fight against waves of enemies. Are you ready for one face thousands? You live peacefully in a nice city but one day, something bad happened. Hordes of monsters and aliens come to the earth aiming to dominate the whole world and turn people into their slaves. Of course, the human must stop them at all cost. However, no one is strong enough to defeat them except you. The fate of the humanity bases on you.
At free friv action games, you play as nighty knight or Pew Pew princess. Each has their own unique abilities. Choose your favorite character and start fighting. Wave after wave comes to you. You must combine your shooting skills and your abilities to kill all of them after they kill you. More and more monsters are coming. Each of them also has their own abilities. You also have to face mighty bosses on http://www.friv.land/. Be ready for them. You will find it hard to beat these bosses. It's easy to win in the beginning, but as the game processes, more and more monsters will come. They are too crowd, so you have to act quickly and flexibility, combine between attack and defend to save your life while killing them.
Avoiding their attack is important too. If your health bar drops to zero, you die and have to start the game from the beginning. Remember that your goal here is to survive as long as you can. Good luck! Do you want to encounter more epic battles? Check out Secret Mission and Stan The Man.
How to play: Use your left mouse to click on the virtual buttons on the screen to control your character.
www.friv.land
Rating:
1
out of
5
based on
5
user ratings