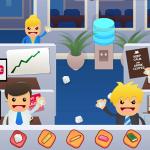 Office Fight
You can have fun at the office with Office Fight! Don't be too focused on the dull paperwork and take part in the fun fight! We love throwing things in this office at friv Games free. Since you're still a beginner, the boss will give you a detailed tour and tutorial so that you can grasp the basics well. Do you see your colleagues?
It's your job to aim at them and throw the paper ball. Try your best to be as precise as possible since a perfect shot will bring more scores. There is a health bar on the top to show the amount of energy that you have left. When you get hit, the energy bar will decrease. Keep in mind that when this health bar reaches 0, you'll be out of the game.
This game emphasizes your fast reflection and improves your ability to react quickly. Moreover, the players can experience the colorful design with many cute characters. Get control of the game or else you will be attacked by your colleagues! You can use the earned coins to unlock more office items, such as rulers, erasers, pens, and pencils.
These items will maximize the damage range in order to gather more coins. Only at http://www.friv.land/ can you have this much fun for free! Save your favorite games to play anytime, anywhere with some choices like Twitch Clicker and Spot The Differences
How to play:
tap or click on the screen to throw the ball at the other colleagues.
www.friv.land
Rating:
3
out of
5
based on
2
user ratings