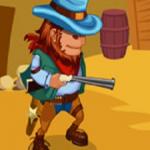 One Hand Cowboy
With only one hand, your ability to protect yourself reduces in a half. You will find it harder to do everything, from simple to complex things. However, this unlucky cowboy who has only one hand now still have to practice shooting skill to survive in the cruel western world filled with bangs, crimes and so on. He needs help. He can't practice alone.
In One Hand Cowboy - a fun-addicting shooting game at play Games friv, 12 challenging levels are waiting to test your skill. Can you deal with them? The rule is simple. In each level, you have 3 bullets, a target and your mission is to aim and shoot at this target with 3 bullets. Use as few bullets as possible to earn extra coins. Finding the proper angle is the key to beat all levels.
The game doesn't allow you to freely adjust the angel anytime. Your gun is moving and you should click at the right moment when the barrel is pointing right towards the target to shoot. On http://www.friv.land/, if you miss that moment, you lose. So, you not only have to aim accurately but also act fastly.
The target will change its position on each level. In some levels, it stands still but in other ones, it moves constantly. This adds more challenging elements to the game. How can one hand cowboy beat 12 levels? It's all up to you. Help him and have fun! If you wonder if there is any game as fun as this one, the answer is yes. Let's check out Spongebob Quirky Turkey and Dumb Ways To Die 3.
Controls: Use left click to aim and shoot.
www.friv.land
Rating:
5
out of
5
based on
2
user ratings