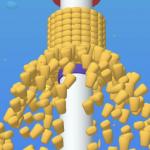 OnPipe
Put your reaction skills to the test in a fun game called OnPipe at Games friv online Many new games are added to our site each day and this game is the lastest one. The game rule is easy to understand. Imagine that you are removing coins from the cob. This game is similar to this. However, instead of using your fingers, you use a special tool which is a sharp ring. Your mission is to remove all objects on the pipe.
You won't remove them from this side to that side but use a ring surrounding that pipe and as it moves up automatically, you need to make it shrink at the right time. This makes it touch the pipe and eliminate all different kinds of objects look like corns. However, you must avoid touching the colored parts of the pipe. Otherwise, you lose. You will process in the game from this level to the next one. It means you have to go to the finish line of the current level to unlock the new stage on friv game 2020 This game is both fun and challenging.
To win and go as far as possible, reaction skills play an important role. As the game processes, the difficulty also increases. More obstacles appear and the moving speed of the ring also increases. If you feed bored when playing alone, you can challenge your friends or family members to add a competitive factor to the gameplay and have more fun. This game is not only one game just added to our site. You also can explore other choices such as Bounce Ball and Hoop Smash
How to play:
Shrink the ring by clicking or tapping.
www.friv.land
Rating:
3.952380952381
out of
5
based on
21
user ratings