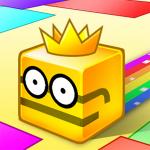 Paper .io 2
Do you have a spare moment but you don't know what to do? With tons of games out there, you don't know which one is an ideal choice to play, do you? There is a fantastic IO game that you should give it a try called Paper .io 2. Here at Friv3 IO games, it's a highly rated game that most people who have played once will not forget and can't wait to play second time or third time and more. The aim of the game is simple, gain as much space as possible.
Everyone on the map is your enemies. You compete against other players all over the world to dominate the top of the leaderboard. To be the winner, you move around the map and leave your trail on the map. Close your trail to make the land belong to you on http://www.friv.land/. Don't let other players step in your trail because you will die. Try to move with a small area first. The more you move away, the more vulnerable you are. You also can steal the land of other players. And they also steal your land. Defense is your best offense.
Don't move to on direction. You should try and expand equally in all directions. Slow and steady are the key to win. Opt for small land grabs are a great strategy for this game. If you want to win much easier, you should go towards the edges of the map because that's the area that not many players pay attention to. Have fun! Find more fun with other choices of games such as Black Hole.io and Kazap .io.
How to play: Use your mouse to move.
www.friv.land
Rating:
4.5789473684211
out of
5
based on
38
user ratings