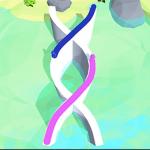 Path Painter
If you are wondering which skills are needed to conquer all levels in Path Painter, then the answer will be timing, precision, and patience. This brainteaser game is fun and challenging enough to attract any of you to play from the first level to the last one. Here at free online friv Games, you also need a little bit of luck if you make the wrong decision. Simply tap or click on each runner to make them run and paint the track designed especially for each of them. When the tracks are fully painted, these runner keeps running.
So, you should wish that they won't crash into each other, so the next level will be unlocked and you keep entertained with the new challenge. Like other games, as you level up, the game will become more challenging as many painters appear at one level at the same time. It's more difficult to control many people at once and there are more chances that they will hit each other.
On play friv, you can't guess and estimate most accurately. Observe the position of each runner and the paths before making them run and pay attention to the potential collision areas like the intersections are important. It helps you reduce the chance of colliding. Control one or a couple of painters is easy. Everything becomes confusing if several ones will be taking on the same path. You should be ready for that. Let's see how can you figure out the way to make everything work smoothly and successfully. Remember many options are waiting for you ahead. Some of the best games you should play first are Fun Race 3D and Perfect Turn
Controls: Tap or click to make your painters run.
www.friv.land
Rating:
4.25
out of
5
based on
8
user ratings