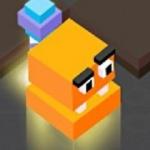 Pie.ai
As easy as pie, it sounds to be simple like that but this following game is really challenging. Pie.ai is an addictive IO game in which you have a chance to eat pies freely. However, you also become the food of other players. This is a brutal eating competition. It's all about eating and trying to survive as long as you can.
Here at http://www.friv.land, the table has been prepared. Tons of delicious pies are available for all of you to enjoy. Let's start jumping and chomping to eat as many pies as you can to level up, so you can eat your opponents who are weaker than you. Besides watching out other players trying to hunt you, you also have to stay away from the jam bombs on Friv land free. If you got jammed, the game is over.
You must quickly jump out of the area has jam bomb. Besides, moving to the area that gathers fewer players is an ideal strategy. In those areas, you can calmly eat pies without being afraid of being eaten. Find a hammer to open the locked parts of the map. In addition, if your health bar is dropping down, you can eat the block with a plus symbol on eating and jumping into its spot to recover your health.
One of the awesome things about this game is that it allows you to customize your character. Before joining the match, you can browse through all available skins and pick out your favorite one. With simple control and addicting gameplay, you don't want to miss this game for sure. Once you play it, you hardly leave the game world. Enjoy more games on our site besides this one such as Rugby.io Ball Mayhem and Gallons .io.
Instructions: Click to jump and eat everything.
www.friv.land
Rating:
3
out of
5
based on
2
user ratings