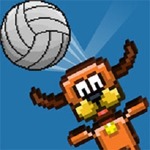 Pixel Volleyball
Pixel Volleyball is a fabulous sports game at Friv.land. You control a volleyball team to lead the path of the champion. Struggle with opponents and make jumps. Pixel Volleyball game is a place to show the talent. Watch matches in unblocked friv and go out of your way to hit the balls. Let's attend the championship.

Pixel Volleyball online game has 2 modes. You fight against PC team or control 2 teams. If you play with PC team, you control 2 players in your team. Jump to hit a ball and make it enter the opposing court. Don't let it touch your court ground. If the ball touches your court, the opponents will have 1 point on unblocked friv game. The first team who has 3 points is going to be the winner. In case you control 2 teams, you move 4 players. It's very challenging. In this mode, the first team who collects enough 5 points will become the winner.

Your team consists of two players. You can change the members because we have many characters. You can use star boy, copycat, my dog, head man with no conditions at unblocked friv player game. However, if you want to own other characters, you must achieve some targets. To use the alien boy, you must beat the alien team in sun league. You may have a tooth cat after winning sun league with 10 characters. It's likely to use the live poll after you win 100 free games. You may possess the wood beard when you win 20 free games.

The game of unblocked friv online game has a few tournament including wood cup, bronze cup, silver cup, and gold cup. Join us! We have 2 leagues: star league and sun league. Win the star league to unlock the sun league. We supply a leaderboard, so you know your position and ranking. You also know groups and rounds.

Type your opinions about our game. Discover other sports games in http://www.friv.land like Free Throw Basketball and Street Ball Jam. Rate them with 5 stars. Talk about them to your playmates to have fun together.
FEATURES
Hilarious 1 tap gameplay
Multiple game modes
Play with 50+ characters
Instructions:
Use arrow and Z X to controls characters.
www.friv.land
Rating:
5
out of
5
based on
1
user ratings