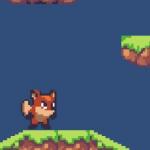 Platform Jumper
One of the new types of games has just been added to the collection at Friv land! If you are a great controller in adventure games, Platform Jumper will be the perfect chance for you to challenge yourself! This is a game for up to two players, which means that you can invite another friend to join and have fun during the free time. Now, we will guide you through the rules and the gameplay of this game at http://www.friv.land/
You will join the game with a cute fox whose hobby is to climb up and down the blocks. The most important thing to remember is that your character needs to be inside the camera's view. The game has a moving camera which will constantly move upward. In order to stay in the game for as long as possible, you have to stay in the camera's view to avoid getting eliminated.
Only by jumping on any blocks will you be able to climb higher. However, this game will test your ability to stay calm even in the most intense and distressed situations. On the hard levels, it's very crucial to think ahead of the game. You need to estimate and predict the blocks to jump and avoid being crushed by the moving screen. It's a whole new kind of theme and gameplay and many players fell in love with this game!
Don't forget that we have many more choices for you like Airbus Flight Simulator and Angry Pigs. Keep jumping!
Controls: Player 1 uses W, A, S, D keys, Player 2 uses arrow keys.
www.friv.land
Rating:
5
out of
5
based on
1
user ratings