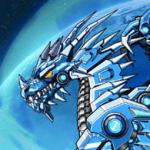 Robot Ice Dragon
It's incredibly hard to predict which robot will be the strongest in Robot Ice Dragon! Not only is this kid game from Friv new games but it's also an amazing jigsaw game. You will experience the combination of a jigsaw and a fighting game at the same time. At the beginning of the game, each player will choose his own dragon model and receive the package. However, you will have to explore the pieces from the package and follow the instructions to put all the pieces into the correct place. The coolest part of this segment is that some piece will transform or expand as you place it correctly, which resembles the style of the famous Transformers.
Now, it's your job to find out the way to solve this puzzle and learn how to create your own Robot Ice Dragon. Have you finished? Let's get prepared to join some battles! The other players at http://www.friv.land/. are very competitive and have great skills, therefore, you need to learn from the failure and observe their movement as well.
In the arena, there is a blue construction for you in a fight against another dragon robot. Like any fighting games, don't forget to keep track of the barometers and the signs to know how much energy you have left. If you have the time, carrying out a little research about your opponents beforehand will be helpful. All in all, don't miss out on all the fun battles with this game and some other games like Ouch Finger and Ben10 The Water World
Controls: interact with the puzzle pieces and the items using your left mouse.
www.friv.land
Rating:
2.875
out of
5
based on
8
user ratings