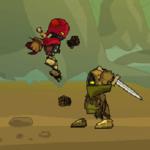 Rogue Soul 2
It's time to have a new adventure in the second sequel of the fun game called Rogue Soul 2. It is an interesting platform combine with the running game in which your main objective is to earn the big loot. At best friv Games, you run, jump and slash your way through the jungle to kill all bad guys along the way, collect coins and save the poor men who are trapped in the cages.
Try to collect as many coins as you can to unlock new skins, weapons, projectiles, and parachutes when you advance in the game. Discover a different world. Each world consists of different levels. Hack and slash enemies and steal their loot as you run, jump and slide through tons of obstacles. Complete several missions along the way to earn bonuses. The enemies can attack you with different weapons.
You must jump over to avoid them at the right time to keep your life safe. Improve property value and become the richest hero ever in the kingdom. On http://www.friv.land/, many exciting adventures are waiting for you to join but you need wit and wisdom to succeed. Without them, you can defeat all enemies, conquer every single obstacle and collect every penny.
Hope you succeed and if you want to try new experiences as fun as this game, you always can find some on our website. They are different in gameplay and rule but bring the same joy and happiness. Some of the amazing choices for you are Swords & Souls and Apocalypse World.
Instructions: Arrow keys to move and jump, D to use your parachute, F to slide and G to use a dagger.
www.friv.land
Rating:
4.5
out of
5
based on
4
user ratings