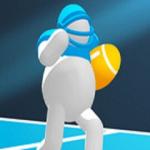 Rugby.io Ball Mayhem
Rugby is a team sport in which 2 teams compete against each other. Now, let's participate in an epic rugby match in an awesome IO game named Rugby.io Ball Mayhem. Your objective at http://www.friv.land/ is to run with an oval ball across the opponent's goal line or you can kick the ball through the upper part of the goal posts. There are 6 players in a team. This game requires great teamwork. So you have to work with your teammates well to take the ball and go to the opponent's goal or defend your goal, stop your opponents approaching your goal line.
On Friv land online, you need to combine between attack and defense strategically. When one of your team members get the ball, you need to run toward and push the opposing's members who are trying to stop your team gets scored. Besides, once you get the ball, your teammates also protect you from the opponents. Observe carefully, don't make a mistake such as mistakenly the opponent is your partner or hold the ball and run in the opposite direction that leads to your goal instead of your opponent's goal.
These are a huge mistake. Each match last in 90 seconds. Within 90 seconds, together with your teammates, try hard to get as many scores as possible. This game is easy, entertaining and challenging at the same time. You will have hours of fun here for sure. So, don't hesitate to try it and other games such as Gallons .io and MegaSpim.io.
How to play: Use your mouse to control your player.
www.friv.land
Rating:
4.8461538461538
out of
5
based on
13
user ratings