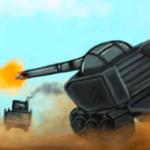 SalvageGuns.io
SalvageGuns.io is fun-addicting multiplayer online IO games combine tank shooting and survival gameplay with the top-down view that brings you to the thrilling tank battle against other players all around the world. At frivland game online, you must fight, survive and conquer the battlefield to become the tank hero. To win over other players, you attack them by aiming and shooting while defending yourself by hiding behind the covers on the battlefield to avoid bullets coming from enemies.
You can apply different strategies here. Stay still and wait for enemies or chase and destroy them. When a tank is shot down, you collect their leftovers to earn money and buy new vehicles with more powerful cannons. Remember that sometimes, the defense is the best attack. You should keep balancing between attack and defend to get the best result. Your enemies vary in style and power. They have a unique weapon, so you must stay focused and be ready for the unexpected situation. Incredibly dynamic and fun multiplayer game, the game will give you the most immerse gaming experience ever.
Enter http://www.friv.land/ now and you won't regret when taking time to play this game. Try different tactics and win the battle with your wisdom and courage. Your goal and also other players goal is to conquer the top of the leaderboard, so the battle is highly competitive. Just one person becomes the last man standing, is it your or someone else? Check it out and find your own answer. Test your skills in other action-packed shooting games such as Hilly.io and Nightwalkers.io.
Instructions: Use arrow keys/WASD to move, mouse to aim and shoot.
www.friv.land
Rating:
3.875
out of
5
based on
8
user ratings