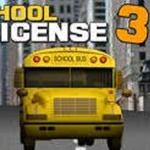 School Bus License 3
School Bus License 3 is an enthralling game at Friv.land. Imagine you are a school bus driver controlling a bus. You also take children to school and back home. You can find joy while attempting to pass through all levels. School Bus License 3 game makes you feel in seventh heaven in friz games. Be in good spirits.

School Bus License 3 online game is a chance to practice your driving skill. You must do many tasks and move the bus flexibly. You will live in a city. You are a good citizen loving to help the community. You love children and desire to become a school bus driver on friz games free. However, you must pass a test to be permitted to work as a driver. Check it out! When the green traffic light turns on, you start to drive. Follow details of the test. An examiner will observe you. If you crash into pedestrians or yellow lines, he will stop you.

Every level has a different line to drive. Don't leave it. Borders are indicated by yellow lines. You mustn't knock over the cones at friz games online. If you hit even one, the bus stops and you will fail. Pick up the school boys and girls at the bus station by stopping in the indicated area. Be calm while they are getting on and off the vehicle. Give attention to the clock. You have the limited time of 1 minute to complete each level.

There are 17 levels. It's supposed that you complete different missions in each stage. In level 1, you reverse out of the parked buses and stop at the goal. You must follow the arrows through the figure 8 course and stop at the finish at level 2 of friz games 2018. To pass level 3, players avoid the moving obstacles. You drive up and down the course following the arrows before a final push to the finish. The last level's request is to collect all the kids parallel park outside the school. Do a reverse and point turn south of the school. Then park back at the bus depot. .You play stages one by one.

Seek some similar games like Crazy Stunt Cars and Impossible Stunt Car Tracks from http://www.friv.land/. Send us your feedback. Rate our games highly. Recommend them to your playmates and relatives. Have fun!

How to play:
Use arrows to turn left, turn right, speed up and brake.
Use Space to use the handbrake.
www.friv.land
Rating:
4.4
out of
5
based on
5
user ratings