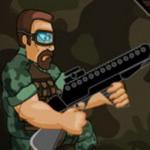 Secret Mission
As a professional soldier, It's your job to capture a secret message from the enemy's hand. This task is not for the fainted-heart because we need a strong soldier to attack multiple enemies at a time. The forces of the enemies are strong and they have assigned many other soldiers to defend the one with the message.
Your job is to kill all enemies on your way and find the one with the secret message. You can use different weapons to suit the situation and suit your preference. Using the gun should be the best way to shoot down the enemies from a long distance. Your shooting skills will also improve after a few rounds at http://www.friv.land. However, during the times when the gun is reloading, you will have to depend on the trusty knife to protect yourself. Moreover, your one-on-one combat skill will come in handy during such situations. Can you see the energy bar on the top of the screen?
That bar will show you how much energy you have left. There is no time limit on this Friv game, but moving as fast as possible will help to maintain the energy for the higher levels. If you choose to shoot, you will have to aim precisely. Share with your friends so that they can join the battle as well! New games like Dragon Ball Z Dark Day and Hidden Soldiers 2 will be updated constantly, so don't miss out on any fun!
Instructions: Use the arrows to move, S to shoot, A to use the knife and R to reload the gun.
www.friv.land
Rating:
2.75
out of
5
based on
8
user ratings