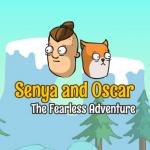 Senya And Oscar: The Fearless Adventure
Senya And Oscar: The Fearless Adventure is a great combination of adventure game and action game with clicker gameplay in which you will join an epic journey with a hero and his cat. Evil forces are everywhere aim to dominate the whole kingdom. Your mission is to defeat them and bring peace back to your land. Your hero and his cat run automatically and what you have to do is to click on the screen continuously to attack. Here at friv free games, the game offers tons of levels with the difficulty increases as you level up. In the later levels, you will face stronger enemies.
Kill evil rabbits and monster earn you money to buy new weapons and level up your hero as well as the cat. In some levels, the hero can attack alone and win the level but in some levels, you have to make the hero and his cat co-op to attack which gives more damages to the enemies. On http://www.friv.land/, this game doesn't require you to plan a different strategy. All you need is to act fast, faster and much faster. If you attack slowly, your opponents will kill you first. This game is all about time.
Fight through your way to the victory and conquer all levels. Come to new lands and sweep out all bad guys and protect the citizens here. You are their hero. Prove your skills to deserve that. Hope you have a great time here and enjoy even more fun with Pixel Battle Royale Multiplayer and Pixel Warrior.
How to play: Click endlessly to attack.
www.friv.land
Rating:
1
out of
5
based on
4
user ratings