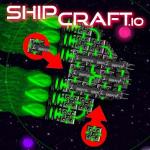 ShipCraft .io
IO games are always attacked many players due to its easy to play but hard to master gameplay. At Friv4school 2019, new IO games are added regularly bring many different choices for you to enjoy. Welcome to ShipCraft.io. You will enter the huge battlefield as the galaxy and encounter many great players from all over the world. At here, you control your futuristic spaceship and shoot down spaceships of your opponents with powerful weapons and wise strategy to become the master of the universe.
To make it comes true, you must combine between attack and defense. You start with a small spaceship and you have to move around the map to collect as many orbs as possible to upgrade your spaceship and enhance your strength. In the beginning, try to avoid those who are powerful than you and keep focusing on absorb orbs to build an unstoppable war machine. When you are strong enough, you can face directly other players and shoot them down on http://www.friv.land/. Remember that you fight alone, so play and fight smartly in this awesome multiplayer online IO game.
You can see your rank in the leaderboard located in the upper corner of the screen. Orbs play an important role. It helps you become stronger. Besides focusing on fighting, let's pay attention to collecting orbs. Run if you encounter a huge spaceship and attack when you face those are smaller than you. Have a great time and have more fun with other games such as Wormania.io and PirateBattle.io.
How to play: Use arrow keys/WASD to move and mouse to aim and shoot.
www.friv.land
Rating:
3
out of
5
based on
2
user ratings