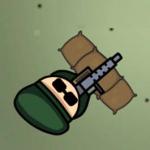 Shotz.io
Welcome to one of the best Battle Royale multiplayer online IO games - Shotz.io. If you live Battle Royale game, you must try this one. This cool top-down shooting game will bring you to the center of the thrilling battle in which you have to try hard to kill other people and keep yourself save to become the last survivor in the battlefield.
To win over your opponent, before starting the game at friv io games free, you should wisely choose a character class. Each owns a unique weapon. They are assault, revolve, SMG, rocket, archer, shotgun, sniper, and LMG. Then, let's start the show. Besides attacking your enemies, you also need to defend.
Hide behind the objects in the battle to avoid the coming bullets from other players. One more important things that everyone should keep in mind that the battle will shrink over time. Be sure to stand in the safe zone, otherwise, you will run out of health and die. On http://www.friv.land/. Kill other players you will earn upgrades to boost your strength or your health.
Like other shooting games, you can go and hunt down your opponent directly or hide in somewhere and wait until they come to you. However, the number of kills is quite important and decide whether you win or lose. Plan a wisely strategy and find the best way to lead you to victory. Hide, run, aim and shoot to become the last one who survives. Have fun! More games like this one are waiting for you on our website. Let's check out: Foes.io and MiniGiants.io.
How to play:
WASD/arrow keys to move.
Click to shoot.
QEF to use upgrades.
Enter to chat.
www.friv.land
Rating:
4
out of
5
based on
4
user ratings