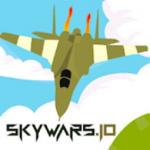 Skywars .io
The new battle in Friv play between the airplanes is the perfect chance for the players to showcase their amazing controlling skills while completing the mission of destroying other airplanes. Don't wait anymore and join Skywars .io if you want to experience the 3D game like no other! Since it's a multiplayer online game, you will compete against the real-time players, whose name will be shown on the right corner of the screen.
First, the game will find the nearest server within the region for you. Once you enter the server, the real battle can begin. The main concept of this airplane game is to fly a battle aircraft on air. The aircraft is equipped with guns and bombs to attack the other players. However, the game might be tough in the first trial because you have to control the movement of the plane and avoid the bullets at the same time. The terrain might be another challenge for you. Don't crash into any mountain and don't fall down the lake or hills.
Try your best to destroy as many jets as possible until your time runs out. If you play as a guest player, your score will not be recorded on the Leaderboard. Let's register at https://www.friv.land and play the game to become the best player! Other 3D games like this are available for free such as Brutalmania .io and Strikers .io
How to play: choose the direction and shoot using the mouse.
www.friv.land
Rating:
4
out of
5
based on
7
user ratings