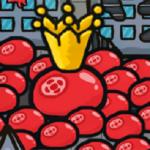 Smismi io
Why don't you play the online game Smismi .io at friv Games free to be able to control a giant ball that moves throughout the city? The game has many amazing things. It will definitely make you feel very attractive when playing this game. What are you waiting for? Discover now. Your task is very simple. We will learn the rules of this game now.
Smismi .io is a fun addictive free online IO game about a strange slime that only eats anything that passes it. Control a slime king ball with a tiny army following you wherever you go. Start swallowing all kinds of tools, like cars, trees, trash or the entire building to create more units. The larger your army, the faster they will eat objects or troops. When you own a group of slimeballs big enough, it's time to find other troops.
How big can you grow your team in two minutes? Set the highest score you can and enjoy Smismi IO! Become a powerful army when participating in this game. You will have great experience moments. Try to create the strongest army and become the best warrior. Only 2 minutes to show your talent. With vivid graphic design. The bubbles will appeal to players.
The city was suddenly swallowed. Invite your friends to join the game and don't forget to share the fun in this game with them. And if you love this game, you can play some other similar games Paperio 3 and Slompkins Club at http://www.friv.land. Spend time playing games and you will have many relaxing moments in life.
How to play: Use the mouse to play the game
www.friv.land
Rating:
5
out of
5
based on
4
user ratings